Yugrakar (Russ. Югракар, Finn. Yukurakari, Hung. Júgravár, form. Khanty-Mansiysk) is a Uralican city. It is Uralica's newest, whose charter was approved 22 November 2009, and it is the county seat of Yugra despite only being its fifth-largest settlement after Surgut, Nizhnevartovsk, Juganvar, and Kogalym.
Originally founded as a Russian settlement in the area devoted to the exploitation of the oil and gas reserves in the area, it is now largely devoted to the mining of iron, with a small silver mine also being nearby. As it sits on the Irtysh River, it also holds much transportation value, particularly with the new Ob-Irtysh Confluence Port Authority having been completed.
It is also important roads-wise as it sits at the beginning of Highway UH-6, where it splits off of Highway UH-1.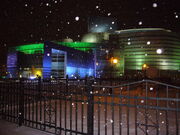 Even now, the population of Yugrakar is predominantly ethnic Russian, although a good number of these claim membership in the Ob Ugric Tribe and speak either Khanty or Mansi (or in some cases even both). There is also a large Hungarian population in the city.
The Church of the Resurrection of Christ is one of the main landmarks of the city (not to be confused with the Church of the Resurrection in Pazhga) and offers a stunning example of Old Russian architecture. More modern structures include the Yugrakar Theatre and the Ice Palace, where ice hockey, short- and long-track speed skating, and figure skating take place.
Another point of note is that Yugrakar has a large cross-country race track, which immediately got the attention of Tribal Chief and avid biathlete Jarkko Salomäki, who participated in a "celebratory" cross-country race on the afternoon of the day Yugrakar was officially annexed, that is, 11 November 2009.
Football (Soccer)
Edit
Kolmonen
Edit
Other Pro/Semi-Pro
Edit
Dinamo Yugrakar
Yugra Yugrakar
Júgravári LK
Spartak Yugrakar
Zheleznik Yugrakar
Gornyak Yugrakar
Progress Yugrakar
Start Yugrakar
Serebrennik Yugrakar
Gruzchiky Yugrakar
Mashinist Yugrakar
Khimik Yugrakar
Ice Hockey
Edit
Khanty-Mansi HK (non-League)
Handball
Edit
Yugrakar RMS (non-League)
Cross-Country Skiing
Edit
Yugrakar 1250 - part of the Irtysh Sportsplex (also home to KMHK and YRMS), this is equipped for X-country and biathlon.
Neighbourhoods and Suburbs
Edit
Samarovo
Mansikar
Khantykar
Community content is available under
CC-BY-SA
unless otherwise noted.