West Uralica (Russ. Западная Уралика, Finn. Länsiuralikka) is a Uralican county, that comprises the majority of the old Vologda Oblast. Since Vologda and Cherepovets both inhabit their own unitary authorities, the county seat is Isoustiuki, which is roughly an hour's drive south of Kotlas.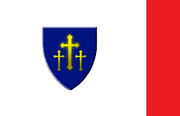 Most of the northern border is shared with Northwest Uralica, although shorter borders exist with Woodlands and Kotlas counties. It borders Kirovski Rayon on the east. The western border, when Uralica reaches cap size, will be with Karelia.
The flag is based on the flag of the old Vologda Oblast, however since Vologda is a Unitary authority and not contained within the county, Vaido Kuik suggested that the Uralican "Kolme Ristea" ("Three Crosses") - the shield in the middle of the Uralican flag - replace it.
Important Cities and Towns
[
]
Totimaa (form. Tot'ma)
Gryazovets
Babayevo
Kharovsk
Vytegra
Ustyuzhna (Finn. Ustius)
Belozersk (Finn. Valkeajärvi)