Vologda (Finn. Volokota) is a Uralican city, and the smallest individual city having its own Unitary Authority within Uralica (Berezniki and Solikamsk are both smaller, but they have a joint UA).
It is an important city for its industrial activities. Numerous consumer goods, heavy machinery, and hi-tech goods are produced in the city. It is Uralica's number one city in terms of automobile production - although the cars "aren't as fancy or as fast as most nations', they do get people from point A to point B without falling apart," according to Merkuur boss Eerik Poom. It is also a major producer - third behind Yoshkar-Ola and Berezniki - of buses.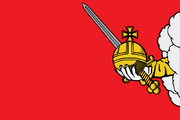 Traditionally Russian, it came as a surprise that the city, and the oblast named after it, wanted to be annexed wholesale by the Uralic nation, even though the easternmost portion of it was part of early Uralica. Even now, the ethnic Uralic population makes up only around 10% of the population, with most of these being Livonian, Karelian, or Saami. Along with Solikamsk and Berezniki, it is among the largest centres of Russian culture within Uralica. However, during the Uralic Purges of Great War III, Vologda's Russians, being sandwiched between Karelians to their west and Komi and Nenets to their east, were perhaps the most outspoken decriers of the actions of Russian supremacists carrying out these actions.
Today, Vologda is a very modern city, but possesses some very good examples of classical Russian architecture as well, making it a prime destination within Uralica for those wanting to study Russian architecture. Uralikan Yliopisto, for example, offers a yearly field trip to those majoring in Architectural Engineering, to Vologda's Sofiyskiy Sobor (Saint Sofia Cathedral).
Football (Soccer)
Edit
Bolakliiga
Edit
Kakkonen
Edit
Kolmonen
Edit
Salon Vologda
VKFK Vologda
Spartak Vologda
Torpedo Vologda
Dinamo-II Vologda
Other Pro/Semi-Pro
Edit
FK Vologda
MFK Vologda
Volokotan Palloseura
Zenit Vologda
Zvezda Vologda
Atlantis Vologda
CSKA Vologda
Severstal Vologda
Bumazhnik Vologda
Ice Hockey
Edit
Handball
Edit
Neighbourhoods and Suburbs
Edit
Maiski (same in Finnish)
Kuvshinovo (Finn. Kuvisin)
Priluki (Finn. Piriluki)
Zapadnaya Vologda (Finn. Länsivolokota)
Anan'ino (Finn. Ananiino)
Kuralit (same in Finnish)
Zarech'ye (Finn. Saaretie)
Rubtsovo (Finn. Rupitto)
Verkhnyy Posad (Finn. Yläkylä)
Nizhnyy Posad (Finn. Alakylä)
Rodiontsevo (Finn. Rodiontila)
Osanovo (same in Finnish)
Golovino (Finn. Kolovino)
Community content is available under
CC-BY-SA
unless otherwise noted.