Virgin Komi Forests National Park is a massive national park in Uralica, covering roughly 32,800 km² on the western downslope of the Ural Mountains. It comprises the former Yugyd-Va National Park and Pechora-Ilyich and Vishera Nature Reserves, which were merged together upon annexation in 2009.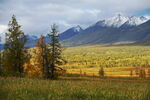 There are actually four counties in which the park sits - the old Yugyd-Va national park is split between Northeast Uralica, Pechora, and Central Uralica counties, while the Pechora-Ilyich Nature reserve is completely within Central Uralica, and the old Vishera nature reserve is within Permski Rayon, along the Urals and roughly 300 kilometres by road from the nearest major centre (Krasnovishersk).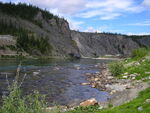 The rules for the park are quite strict, and certain "zones" are off-limits to the general public so as to preserve the area's pristine nature. However, in other zones, hiking, rowing, backpacking, and tenting are permitted.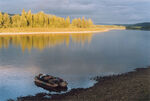 There are several points of entry into the park. The northernmost of these is roughly halfway between Pechora and Inta at the hamlet of Kozhym, Northeast Uralica, which at one point was practically a ghost town but has experienced a mini-revival due to mining work to its north, and provision of inns and services for the park. Another entryway is a short drive east of Vuktyl, and there are numerous stop-off points along Highway UH-37 between Vuktyl and Krasnovishersk, including one with a monument at the foot of the trail along which Ionizer's body was found after the Ionized-Jelly War. The town of Yaksha (also along UH-37) is the entry point to the Nizhny Borovoy exclave, while the Vishera area is only accessible by a winding back road starting in Krasnovishersk.
Community content is available under
CC-BY-SA
unless otherwise noted.