Vintus
Head of Recruitment of the Random Insanity Alliance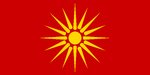 Flag of Anexorbia
Vintus is the ruler of Anexorbia. He is a former Head of Recruitment, Co-leader and (briefly) leader of the Random Insanity Alliance.
Vintus is a long time member of the Random Insanity Alliance and been a member of government for several terms. He has been a member of the alliance since near it's beginnings, 2 days after it was founded, on July 26, 2008. Vintus was first seen in the RIA's political scene when he rain for Foreign Advisor for the Fifth Cabinet. The, however, did not when this election and was defeated by the long time incumbent, Moth. He was then seen again running for Head of Internal Affairs for the Eleventh Cabinet. He was defeated by EnragedLobster who won with 83.87% of the votes. He then decided to run for Co-Leader in the next election but once again lost in a four way election where ananegg won with 41.46% of the votes. In the following month, however, he finally won and became Co-Leader winning 76.32% of the votes. He remained Co-Leader through the next month as no one decided to run against him. During the Asplosion, Vintus became the Leader of the alliance for a short time at the end of November as Delta1212 stepped down from the position. After the end of the month the new ConstRItution came into effect and Vintus decided to run for Head of Recruitment. He won with 64.44% of the votes in a three-way election. He remained the HoR for the next two cabinets until he decided to not re-run for Nineteenth Cabinet cabinet. He remained out of government until he ran once again for HoR in the Twenty-second Cabinet. He won with 62.50% of the votes against Dontasemebro. He then once again ran in the following election with 80.00% of the votes. On July 21, Vintus resigned from his position of Head of Recruitment and retired from government. In the December 2008 elections Vintus ran for Captain Planet and won with 25.81% of the vote.
Positions
Edit
Community content is available under
CC-BY-SA
unless otherwise noted.