Vanshira Kasores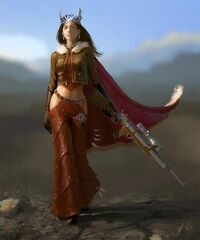 Date of Birth
1 November 1981
Place of Birth
Kurast, Kehjistan
Height
1.65 m
Weight
52 kg
Politics
Moderate/socialist
Previous profession
Sorceress, soldier, cat burglar
Vanshira Kasores is the current leader of Kehjistan and Minister of Internal Affairs for Invicta. Cautious, clever, and charismatic, she has been able to maintain leadership throughout multiple government upheavals. She makes decisions based on all the information available, not only what her supporters and cabinet members tell her, and once fired the Secretary of Urban Development on the spot for suggesting ethnic cleansing as a cure for race riots. After serving as President, she retained control after the Kehjistani government destabilized and was chosen as ruler when the people returned to the old days of the Sorceress-Queens. While serving in The Legion's Admiralty and later as Deputy Prime Minister, she was known as "the Witch of the Legion" for her success in war.
Vanshira, remind me to put you in the front lines of our next war. I love that voodoo that you do so well.

—Miemalkonnen, Legion Home Minister
Vanshira is married to Benjamin Smythe, and together they have five children: Callie Rose, Laisana, Benji, Kella and Jake.
Community content is available under
CC-BY-SA
unless otherwise noted.