Van Midas Creations (NSE: VMC) is a popular fashion line in Vanivere, and is one of the largest fashion houses in Châtillon. The company is Vanivere's number one importer of furs and gemstones. Van Midas Creations's headquarters is located in Châtillon, Coruvel, Vanivere.
Van Midas Creations was founded in 2804 by Valerie van Midas and her younger sister, Élisabeth. Since its establishment, Van Midas Creations has become one of the most famous fashion lines in the Vaniveran Empire.
Development
Edit
Van Midas Creations began in 2804 when Valerie van Midas, older sister to the Crown Dauphine of Vanivere, decided to create a new clothing line in Châtillon. Asking her younger sister to join in the company, Valerie and Élisabeth began to design one-of-a-kind designs that became extremely popular among the younger citizens of Vanivere. By the end of their first year, Van Midas Creations had become a national phenomenon. In 2806, Valerie and Élisabeth purchased the Hôtel de Guénégaud to serve as the new headquarters for Van Midas Creations.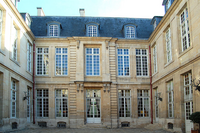 Since its move to Guénégaud, Van Midas Creations has grown to include several thousand employees. Hundreds of stores have been opened across Vanivere. And in 2807, Van Midas Creations announced it would begin designing men's apparel alongside the famous women's apparel. This new line of men's apparel has been a raging success and has continued to be in production at Van Midas Creations, despite early media skepticism. On October 3, 2809, Valerie van Midas expressed an interest to have Van Midas Creations to go global, though this dream has not yet materialized.
Community content is available under
CC-BY-SA
unless otherwise noted.