Ukhta-Sosnogorsk is a Uralican unitary authority, which contains only the two namesake cities, Ukhta and Sosnogorsk. It actually borders two Uralican counties, the only UA in Uralica to do so - Komiland is to the west of it, and Central Uralica to the east.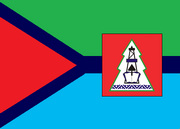 Not surprisingly, it is Uralica's most industrialised first-order administrative division, with Ukhta being the headquarters city of Bolak Corp. and having the largest industrial section for its size in Uralica, and Sosnogorsk being the headquarters of Gornyak Uralika and two less prominent mining companies, as well as a booming consumer goods manufacturing trade.
The flag of the UA is an interesting story. The red, green, and sky-blue sections are all taken from the city flag of Sosnogorsk, with the canton being derived from the city shield of Ukhta, and the dark blue is from the chief (title bar) of the same - on the flag of Sosnogorsk, this space is white. Jarkko Salomäki said of the flag, "I talked to Meri [Vanhanen] about doing the flags for the counties that didn't have any, given how I have the artistic talent of an amoeba, and it came to talking about this, and she said, 'I'll do it on one condition. You let me scrap that ridiculous-looking turkey thing on Sosnogorsk's flag.' So after a few minutes of killing myself laughing, I said, 'go ahead.' So now the city of Sosnogorsk's flag actually looked presentable, and we had a nice new fusion flag for the UA. Everybody won."
Constituent Settlements
Edit
Butovyy Kar'yer
Polyana (a subordinate hamlet of Sosnogorsk)
Community content is available under
CC-BY-SA
unless otherwise noted.