Udmurtiya South (Russ. Южная Удмуртия Finn. Etäläutmurttia) is a Uralican county, comprising the southern portion of the historical region of Udmurtiya, the Udmurt homeland. Its county seat and largest city is Sarapul. The flag is actually a variant of that of Udmurtiya North, inspired partially by the flag of Thailand, and made by Meri Vanhanen with the blessing of prominent Udmurt Ovdey Shlomov.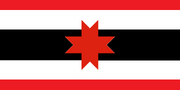 It is smaller in size than Udmurtiya North but larger in population even without the cities of Izhevsk, Glazov, and Votka. It completely surrounds the Izhevsk Unitary Authority and was made from the following historical districts within Udmurtia - Vavozh, Uva, Zavyalovo, Sarapul, Kambarka, Karakulino, Kiyasovo, Malaya Purga, Mozhga, Alnashi, Grakhovo, and Kizner.
Like its northern counterpart, it is heavily industrialised, with manufacturing, textiles, and mining operations being the top industries. There are also some minor oil and gas reserves, and a hi-tech industry. Sarapul is known as a retail hub. Zavyalovo is a bedroom community of Izhevsk.
On 13 January 2010, the Agryz district of Tatarstan was annexed to this county. Tatar politicians agreed to this so that Tatar Christians would have a place to practice their beliefs in peace, and to "neaten up" the border between the old regions of Udmurtiya and Tatarstan. As such, the Tatar language has become a recognised regional minority language within Udmurtiya South.
Important Cities and Towns
Edit
Community content is available under
CC-BY-SA
unless otherwise noted.