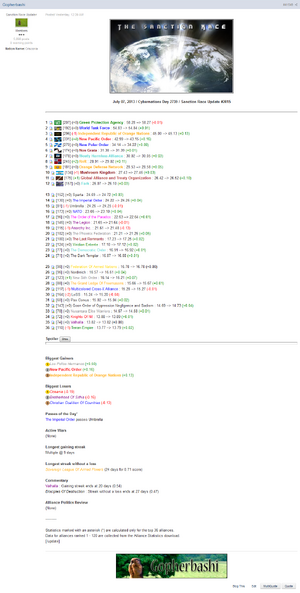 The Amazing Sanction Race (often shortened to the ASR) is a topic on the Open World Forum which contains a daily record of the scores of the top 120 alliances. It was originally started in mid-2007 to see which alliances were close to and could become sanctioned; the modern topic was started in January 2008 and continues to this day.
The Standard Edition Sanction Race was started by Logan on January 01, 2008 as a continuation of previous attempts to track the scores of top alliances. While early updates were completed manually, later versions were assembled by a series of programs written by Gopherbashi, who has taken over the daily updating of the ASR.
Alliances included in the ASR were once based on "Add and Drop Lines", which were half of the 12th-strongest sanctioned alliance's score (and 0.30 below this for the Drop Line). This was removed in favor of a hard cap of 36 alliances, which was expanded to 120 alliances on February 24, 2012 in an attempt to fill the gap left by the loss of the Cyber Nations Alliance Statistics Depot by Unspeakable Evil.
Alliances ranked 1-36 are displayed in the main part of the Sanction Race, while those ranked 37-120 are hidden by spoiler tags. All alliances have data listed for their total number of nations, team color, current score, and link to their in-game alliance stats. Sanctioned alliances (currently, the top 12 alliances regardless of nation count) also have their alliance flags displayed.
Also included are a variety of statistics, including the three alliances with the largest gains and losses, any passes that occurred that day, information about score streaks, any current alliance wars (defined as 7+ war slots), and a listing of alliance announcements for that day.
Updates for the Sanction Race are generated daily from the evening Alliance Statistics Download, and may not reflect the Real-Time Alliance Statistics or the All Alliance Display. Weekly updates occur every Thursday, while long-term updates are also posted at the end of every month, quarter, and year.
Daily Results of the Amazing Sanction Race - 2011
Daily Results of the Amazing Sanction Race - 2012
Daily Results of the Amazing Sanction Race - 2013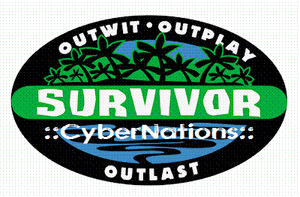 Main article: Survivor: Cybernations
Survivor: Cybernations (sometimes written as Survivor: CyberNations or Survivor: CN) [sic] was a concept introduced by Gopherbashi during the summer of 2009, designed to allow for a more direct form of competition between alliances of varying strength levels. There is typically no set format for Survivor competitions, with the style changing from season to season. Survivor is currently in its tenth season of production.
Historical Champions of Survivor: Cybernations
[
edit
|
edit source
]
Community content is available under
CC-BY-SA
unless otherwise noted.