Southern Counterattack
Part of the Caribbean Theater of the Great Pacific War

A NewAustralian F-35 patroling the border.
Belligerents
Deltoran Republic
NewAustralia

CTO

---

Cuba




Dominican Republic




Libya




Haiti




Cape Verde




Saint Lucia




Trinidad and Tobago

Belize




Honduras




Saint Vincent and the Grenadines

UPAC

---

Republic of Chile




Republic of Peru

Commanders
Laura Nifestri
Gregor Hammelson
Frank Cy
Nava Ladmril
Ham Young
Andrew Greng
Nathon Carrelson
Henry Jumpers
Tyler Jacobs
Andrew Antin
Lucas Hewat

Raul Castro


Juan Miguel Fuente-Alba Poblete
Edmundo González Robles
Jorge Rojas Avila
Rafael Rey Rey

Strength
600,000 troops 200 tanks 250 aircraft
Unknown
Casualties and losses
5,400 troops
Unknown
The Southern Counterattack is a major military operation conducted by the Deltoran Homeland Defence System in response to the Invasion of Deltora. Often dubbed as Operation: Final Blow, the Southern Counterattack was a major turning point the the Carribean theater.
After the Invasion of Deltora, troops were scattered. Laura Nifestri, Andrew Antin, Tyler Jacobs, and Gregor Hammelson planned to regroup Deltoran troops into one large army. The Homeland Defence System, a system already active that uses air strikes and land strikes together, and uses SAC to bomb civilain and military targets in the home countries of the invaders. Hammelson uses the HDS and regrouped Deltoran troops as a attack force. Operation:Final Blow began on the night of May 25, 2011 with DR troops moving into position. At dawn on May 26, DR troops near the front of the CTOean invasion, near Jefferson City, St.Louis, and Kansas City, began artillery bombartment.
May 26: Artillery Bombatment begins, Deltoran paratroopers attack air bases and military strong points of CTO
May 27: DR tanks and troops begin crossing borders into CTO territory
June 3: NewAustralia sends 200 F-35 Lightning II to patrol the border, Deltoran spy aircraft locate no strongpoints of CTO, Gregor Hammelson considers that the attackers are using terriost-type attacks simular to those found in the

Soviet Invasion of Afganisatan

June 4: Deltoran soldiers win a major victory at Rolla, in northern Giradot. The Cuban army there is captured, and Deltoran soldiers push towards

Springfield

, the capital of the Springfield Commonwealth in hopes of capturing a major Cuban army in the area. Deltoran long-range aircraft begin Operation Thunderbolt, the invasion of CTO.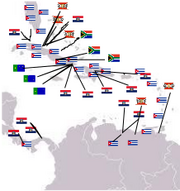 June 10: CTO forces in the Springfield Commonwealth are captured at the Battle of Oklahoma
Community content is available under
CC-BY-SA
unless otherwise noted.