SWAT128
Sovereign of Cat Land
Former Director of the Cactuhova's Witnesses
Former Director of Public Relations of the Corporation
Former Head of Foreign Affairs of the Random Insanity Alliance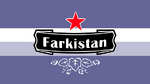 Flag of Farkistan, flown in SWATLand
SWAT128 is the ruler of the nation of SWATLand. He is a former Head of Foreign Affairs of the Random Insanity Alliance and Director of Public Relations of the Corporation. He most recently re-created the Cat Land microalliance.
History
[
]
Random Insanity Alliance
[
]
SWAT128 joined the Random Insanity Alliance from Random Insanity on February 7, 2007. Since then he has been a member of the alliance except for a short time in June 2008 where he became unaligned. He, however, re-joined the alliance on July 1, 2008. On October 7, 2008 he was appointed and accepted into the Head of Foreign Affairs position by the Triumvirate (DrunkWino, Delta1212, Shadow) and the Twenty-Sixth Cabinet due to a vacancy as nobody ran for the position in the previous election. He also became the Captain Planet of the RIA with Shadow as they were tied in second place, both with 22.22% of the votes, behind 'Kenny's Cock' who won the election. He continued to run for re-election each month for Head of Foreign Affairs and did so unopposed due to his popularity in the position. In the March elections he decided to also run for Triumvir but was defeated by Agent Lemon. He ran once again for Triumvir in the May elections but this time choose not to re-run again for Head of Foreign Affairs, believing it caused him to lose some votes in the previous election. While he did do better, he lost against the incumbent Shadow.
Post RIA
[
]
SWAT left the RIA on June 4, 2009 and joined the Forsaken Ones where he worked as a governmental adviser. Around a month later he left TFO and joined Farkistan. A couple of weeks after this he temporarily created his own alliance known as Cat Land while the Corporation was being set up. With its officially announcement of existence on September 12, 2009 he was announced to be their Director of Public Relations. He remained in the Corporation as the Director of Public Relations until November 28, 2009 when he resigned and re-applied to the RIA.
Return to RIA
[
]
SWAT returned to the RIA on November 28, 2009. Shortly after on December 1 he was appointed to the Director of the newly created Cactuhova's Witnesses, a foreign affairs department dealing with spreading Random Insanity to non-allied alliances, by Ogaden, the Head of Foreign Affairs of that time. He remained as Director until February 28, 2010 when he once again departed the RIA and decided to reform Cat Land.
Cat Land reborn
[
]
On February 28, SWAT re-founded Cat Land and became it's first member. Cat Land was declared protected by both the Random Insanity Alliance and the Corporation.
Positions
[
]