RED ALERT
RED ALERT Flag
Bloc Type: MDoAP
Bloc formed: May 8, 2020
Bloc Status: Active
RED ALERT Member Alliances
Union of Communist Republics


Socialist Workers Front


Libertarian Socialist Federation


COMECON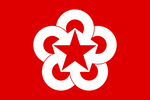 Statistics
Total Nations: 29
Total Nation Strength: 1,336,743
Average Nation Strength: 47740

The Responsibly Ensuring Defensiveness and Amicable Leadership in Economic Relations Treaty (RED ALERT) is a socialist MDOAP bloc connecting the 4 main socialist alliances of Planet Bob. Announced on May 18, 2020, the treaty seeks the "development of friendship, cooperation and mutual assistance in accordance with the principles of respect for the independence and sovereignty of alliances". The current members of RED ALERT are the Union of Communist Republics (UCR), the Socialist Workers Front (SWF), COMECON, and the Libertarian Socialist Federation (LSF). High-level discussions between the alliances began shortly after the 2020 reformation of the SWF, and the treaty was ratified on May 8.
RED ALERT Central Committee
Edit
The coordination of relations within the bloc is managed by the RED ALERT Central Committee. The Central Committee is a council of representatives from the member alliances with the power to vote on bloc affairs. These include declarations of war, authorization for the use of nuclear weapons, admittance of new Member Alliances, and economic embargoes.
Community content is available under
CC-BY-SA
unless otherwise noted.