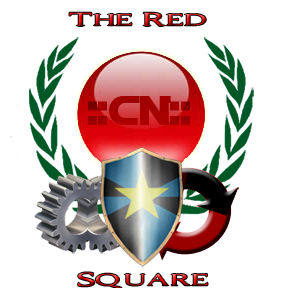 Recently the New Pacific Order's public forum section for servicing Red sphere nations, the Red Square was refurbished and renamed the Red Sphere Services Center. The Red Square had 3 areas for servicing Red sphere nations(Red Protection Court, Technology Market, Trading Post) whereas the new Red Sphere Services Center added 3 more areas on top of that, Graphics Industries, Wikimania and the Pacific News Network. Descriptions of each can be found below.
Main article: Red Protection Court
The Red Protection Court is an institution working to protect the red trading sphere. It deals in cases where unaligned members have been attacked by other nations and can appeal to the NPO for help under the Revenge Doctrine. All cases are heard by NPO's Military Command who either take on the case or reject it if it doesn't fit the specified criteria.
The Technology Market is a specialized place to support every red team member's interest in either buying cost at reasonable prices or to sell it for profit. These transactions happen on a private bases, participants do not trade tech with the NPO, the Technology Market only provide the platform to make it easier for everybody and save the asking around in numerous IRC channels.
Graphics Industries is where anyone can come to have graphics designed by a member of NPO's Graphics Division.
Wikimania is where anyone can come and post a request to have their very own wiki article created for them by a member of NPO's Wiki Division.
The Pacific News Network is one location where NPO's Writing Division publishes the Pacific News Network International issues as well as where Sir Paul publishes Tabloid Tribune issues.
Community content is available under
CC-BY-SA
unless otherwise noted.