Pantops


National Flag

Motto
"Motto: Hoc Quoque Transibit"
National Anthem
"Anthem: The International"

Capital City
Kampala
Official Language(s)
English
Established
06/14/2008
Government Type
Capitalist
Ruler
JamesOfJames
Nation Team
Red
Statistics as of 09/23/2008
Total population
10,430
 7,949 civilians
 2,481 soldiers
Literacy Rate
62.23%
Religion
Hinduism
Currency
Shilling
Infrastructure
979.17
Technology
105.39
Nation Strength
4,515.562
Nation Rank
14,092 of 5,242 (268.83%)
Total Area
470.176
Native Resources
Connected Resources
Bonus Resources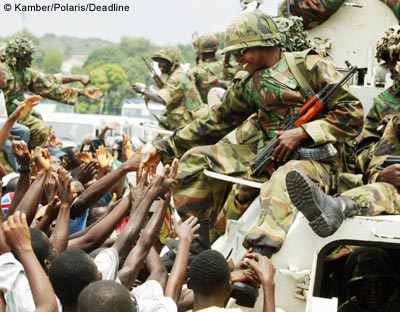 Pantops is a growing, developing, and established nation at 101 days old with citizens primarily of African ethnicity whose religion is Hinduism. Its technology is progressing moderately and its citizens enjoy an average amount of technological improvements within the nation. Its citizens pay extremely high taxes and many despise their government as a result. The citizens of Pantops work diligently to produce Silver and Gems as tradable resources for their nation. It is a mostly neutral country when it comes to foreign affairs. It will usually only attack another nation if attacked first. When it comes to nuclear weapons Pantops will not research or develop nuclear weapons. The military of Pantops has been positioned at all border crossings and is arresting all drug traffickers. Pantops does not allow any form of government protests. Its armed police forces work quickly at "dissolving" any and all government protests. Its borders are closed to all forms of immigration. Free speech is considered taboo in Pantops. The government gives whatever is necessary to help others out in times of crisis, even if it means hurting its own economy. Pantops will not make deals with another country that has a poor history of inhuman treatment of its citizens.
Important Dates
Territory
Pantops is centered upon the capital of Kampala, where First Comrade James of James lives and works. Entebbe, Jinja and much of central Uganda are under Pantopian control. A map of the nation can be found here.
History
2008
August
August 15, 2008
Chaos has encompassed the globe, and hardly any nation remains truly untouched by war. Pantops is no exception - the 1st and 2nd Pantops Expeditionary Forces have been deployed to great success so far in this world-wide war.
August 14, 2008
As the surrounding world seems enveloped by war, Pantops marched alongside its NPO allies today in declaring war on the member nations of the Mushroom Kingdom. While progress has been slow on the Constitution, members of the Convention express their hopes that it will be ready to present to the public within a week's time. First Comrade James Of James has been taking a brief respite in Jinja this week and has been filling his time with his forthcoming nonfiction work, "A Brief History of the War Between the New Pacific Order and the Black Defense Council."
August 9, 2008
Having defeated the Black Rifles and other enemies of the Pantopian state, James of James announced today that the Constitution was nearly ready, and would be submitted to the people within the week.
August 2, 2008
The Black Rifles were soundly defeated today in a courageous act of sacrifice by the troops of the PDF. While the PDF attacked from the front and began the appearance of a withdrawal, NPO forces led by Gandroff of Galered secured the town and continued through to attack the UPDF divisions from the rear. The enemy was annihilated with nowhere to retreat, and the PDF leads allied forces in continuing to secure the area.
August 1, 2008
The war with the Black Rifles wears on - the enemy was reinforced with weapons airlifted in late yesterday evening. The PDF's air forces were unable to catch the helicopters in time, but their markings were noted and this intelligence was reported to the NPO.
Recent Wars
Recent Aid
Community content is available under
CC-BY-SA
unless otherwise noted.