Monster Mash
Date
September 25 - November 14, 2016
Casus belli
War for the sake of war, dislike of alliances
Status
Monsters University defeated, move off Brown
Preceded by

TSC-Sengoku War

Succeeded by

NSO-Legion War

Combatants


SRA

VaG

SLAP

FoC

Apocalypse Meow

SNX

Umbrella

Kashmir

RAD

GOONS

Atlas

The Monster Mash (aka Operation Meowing Thunder) was a war that began on September 25th with Monsters University declaring on Screaming Red Asses, Varangian Guard, and Sovereign League of Armed Powers. According to President Hardin, leader of MU, "Monsters University picked Jack Layton and his alliance to hit before that happened. In his own words "Monsters University's reason for war is war itself", his past actions against us and friends did him no favors. I hope that explains it. As for SRA, we don't like them. The slap guy was sra government, and banned defended his dual membership, which I understand. Not that he's doing a great job, but I respect it." In time MU has also declared on Federation of Cobra, Apocalypse Meow, and Supernova X.
The conflict has since expanded to include Umbrella, Kashmir, Rebelling Against our Dads, Goon Order of Neighbourly Slapping, and Atlas all entering against MU. Additionally, VaG has declared a state of war with The Mages Guild after the latter's leader joined MU's side in the fight.
On October 25, one month into the war, President Hardin of Monsters University finally posted a DoW on the Red Asses ans VaG, although Red Ass Commander Walsh the Beloved took the brunt of their unprovoked assault, fighting five wars against nuclear and full-wondered nations. President Hardin also sent Walsh a private message indicating he was a specific target and had been sentenced to EZI (see image below).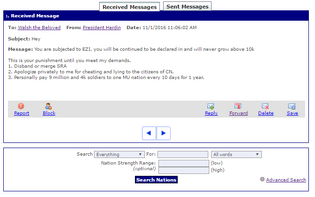 By mid-November, Monsters University was in disarray. Beaten soundly on the battlefield, they were out of warchest, out of ideas, out of luck and suing for peace. Roal36 had left them and was looking for a separate peace, President Hardin abandoned them for a second time while fighting SRA, and Lord Caparo fled to Non Grata. The end was nigh, and finally came on November 14 when they capitulated to the coalition arrayed against them and moved off the Brown Sphere. Their allies Sephiroth and the LPCN also disintegrated.
Related Links
Edit
Community content is available under
CC-BY-SA
unless otherwise noted.