| | |
| --- | --- |
| | This alliance has disbanded. |
Meridian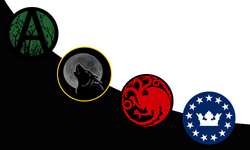 Bloc Type: ODoAP
Bloc formed: July 8th, 2017
Bloc Terminated: October 25th, 2017
Bloc Status: Defunct
Former Member Alliances
Statistics
as of July 11th, 2017
Total Nations: 79
Total Nation Strength: 6,862,849
Average Nation Strength: 86,871.51
Total Nukes: 1,081
Total Score: 28.75
Total Infra: 832,397
Total Tech: 657,738

Meridian was an Optional Defense and Aggression Pact bloc formed on July 8th, 2017 by the Fellowship of the Wolves, The Freehold, Aevrum, and The Imperial Entente. Designed as an effort to economically unify the leading forces on the White Team, Meridian marked the first major White Team bloc in years, home to several Senators and two of the White Team's largest alliances.
What defines Meridian? "Meridian: Of or indicating a period of greatest prosperity, splendor, success, etc." The name of this economic bloc, is the very goal of which we strive for. We, the sovereign alliances of White, come together to sign this Pact. Through this agreement we strive to form a more unified sphere, with the intentions of communication and economic prosperity.
Section I: Defense
Edit
Should any of the signatories find themselves under attack, it is strongly encouraged for the other signatories to provide what help they can, though both parties accept that this is not an obligation to attend the party.
Section II: Support
Edit
Signatories of this treaty agree to share accurate information relevant to the security of the other signatories.
Assistance to signatories in some form, whether it be aid, information, and or diplomatic resources should always be provided upon request.
Section III: Cooperation
Edit
We agree to maintain strong ties through active communication, in regards to the senate. The signatories of this treaty will discuss proposals prior to voting, so as to best help White prosper. We agree to communicate trades and ensure all signatories can have a full white team trade circle.
We further agree that any changes to this treaty may be made with majority agreement. Once a vote is called alliances have seventy-two hours in which to vote, failure to do so will be considered a vote to abstain.
Section IV: Additions
Edit
Any White alliance may petition to be considered for signatory status within this treaty.
Petitioning alliances will be required to first go through an interview process.
Additional signatories may be added to this treaty through the unanimous consent of the delegates.
Section V: Cancellation
Edit
In the event a signatory wishes to part ways, they are required to give seventy-two hours notice, during which time it is advisable that attempts to resolve any differences be exhausted. Should the actions of a signatory violate the spirit of Meridian a vote may be called to remove the offending party from this treaty. In order to remove an alliance from this pact a majority vote of the signatories, the accused not included, must be in agreement.
Signatories
Edit
Fellowship of The WolvesEdit
Alpha Canik
The FreeholdEdit
Maegor of the House Targaryen, Diadoch of The Freehold
pjk11 - Head Potato
The Imperial EntenteEdit
Lucius Optimus, Absolute Ruler
External links
Edit
Community content is available under
CC-BY-SA
unless otherwise noted.