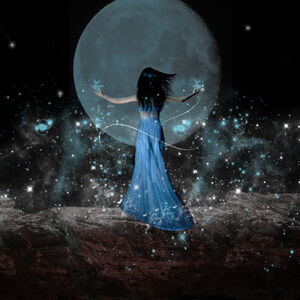 Kylliah Folf Dreyden is the ruler of Pirate Consortium, and the Chief Executive Officer of AtlantiCorp, after spending nearly 2 years with the New Pacific Order.
Kylliah's nation was originally Quenatra, a peaceful place dedicated to the advancement of human life through scientific achievement, founded on December 2, 2006. Her family had controlling interest in several other nations, including Sabertash, a nation of pirates and thieves. When her uncle, Captain Milbrandt, the leader of Sabertash's ruling government, passed away suddenly, both the young monarch and her people rose to the occasion and transplanted the entire nation of Quenatra to Sabertash, renaming it the "Pirate Consortium".
As of 9/16/08, Kylliah has taken over the rule of an Irish nation, Foír Síocháin. There is no information as to her reasoning behind this action.
New Pacific Order
Edit
Joining the NPO on December 5, 2006, Kylliah quickly found that she had a talent in many different departments. She has worked with nearly every member of the 900+ member alliance over the past year and a half, and has served Pacifica in many ways. Some of her previous positions include:
Praetorian Guard
Recruiter
Squad Leader
Battalion NCO
Mentor
Academy Instructor
Imperial Ambassador
Artist
Scribe
Councilor
Diplomatic Special Envoy to the entire Blue Sphere
Star Guard Supervisor
Retirement
Edit
Kylliah was with the New Pacific Order from December 5, 2006 to August 31, 2008. She chose to retire from service due to a death in the royal family, and has since decided not to return for some time. She currently works on AtlantiCorp, a new project for the young Empress.
The future is uncertain for this young Empress, though her dedication and loyalty never falters. Asking her where her loyalties lie will result in a quote of "My blood still runs red, black, and blue, for Pacifica." It is not clear what she intends to do for AtlantiCorp, but that is where her attentions are currently.
Community content is available under
CC-BY-SA
unless otherwise noted.