The county of Kotlas (whose county seat is the namesake town Kotlas) is a Uralican county in the west-central part of the nation. It borders on several counties - Northwest Uralica to the north, Woodlands to the west, West Uralica to the southwest, Kirovski Rayon to the south, and Mennoland and Komiland to the east. It is also fairly small - the third-smallest county, to be precise - but the Kudymkar Circle and Mennoland are far smaller.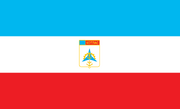 Its importance is largely based on transportation and hi-tech. The large town of Kotlas sits where the Sukhona and Vychegda Rivers come together to form the Tivina, Uralica's most voluminous river. The Sukhona goes southwest from Kotlas towards Sokol while the Vychegda runs through Syktyvkar and Öskölömi, therefore the rivers are both important for transportation and trade within the nation.
When creating a county flag for this, "Founding Mother" and noteworthy Kottilainen artist Meri Vanhanen decided to take the vibrant colours of the shield of Kotlas and put them in horizontal bars, with the shield itself, minus the Soviet imagery and year of the original, in a central, white bar. The blue shape represents the splitting of the Tivina into the Sukhona and Vychegda, and the other symbols are naval.
Important Cities and Towns
Edit
Community content is available under
CC-BY-SA
unless otherwise noted.