Kirovski Rayon (Finn. Kirovinalue) is a Uralican county situated in the south-central region of the nation. It is the fourth-largest county in area and ranks third in population behind Southeast Uralica and Permski Rayon.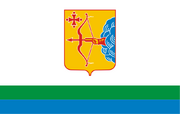 The county seat is the city of Kirovo-Chepetsk.
It is an economically diverse area, and combining with Kirov unitary authority it has six major retail hubs - Kirov, Vaahruše, Viche Alan, Murashi, Kukarka, and Kirssi. The main industrial centres are Kirovo-Chepetsk and Omutninsk. The major economic sectors in the area are finance, hi-tech, retail, internal grains trade, domestic livestock-farming, consumer-goods manufacturing, and food production. The county also benefits from a decent tourist trade, although it is not first in Uralica in this regard.
Important Cities and Towns
Edit
Viche Alan (formerly Vyatskiye Polyany)
Käkshär (formerly Kotelnich)
Kukarka (formerly Sovetsk)
Kirssi (formerly Kirs)
Sosnovka
Zuyevka
Luza
Belaya Kholunitsa
Ürzhüm (Russ. Уржум)
Nolinsk
Malmyzh
Community content is available under
CC-BY-SA
unless otherwise noted.