Izhevsk (Russ. Ижевск, Finn. Issikari, Udmt. Ижкар/Izhkar) is the third-largest city in Uralica after Yekaterinburg and Perm', and an important centre of Uralic culture, being the capital of the former autonomous state of Udmurtiya. The city is its own unitary authority within Uralica, and is completely surrounded by Udmurtiya South. Located in the southern regions of Uralica, it is close to the same chernozem soils that allow Uralica to be self-sufficient in production of grains. The industry consists mostly of manufacturing (especially that of machinery), although there is also a small natural gas industry still existing in the area, and there is a fair deal of ferrous metallurgy as well.
Officially annexed to much applause in early September of 2009, Izhevsk is also the birthplace of one of the founders of the Uralicist Movement, one Dr. Ovdey Shlomov. It is interesting to note that the Finnish name of Izhevsk is based on the Udmurt name of the city.
Izhevsk is also home to a campus of Uralikan Yliopisto.
Points of highway ingress include Highways UH-4, 4A, and 14.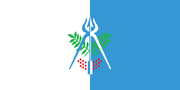 Even in the pre-Robertian days of Russian domination of the area, Izhevsk's population had a large population of Udmurts. In the days after Great War III, however, a great many people left the city in fear that it would be attacked with nuclear weapons because of its history of industrial and weapons manufacturing, but this never materialised. Most of the Russians never returned, however the Udmurts stubbornly clung to that area, and now make up the vast majority of the population (as is the case with the rest of the Udmurtiya region of Uralica).
The city's flag doubles as the flag of the unitary authority.
On top of having several sports teams, Izhevsk also has Uralica's largest gymnastics facility, second-largest Olympic-style pool (largest is in Perm'), and second-largest velodrome (largest is in Syktyvkar). The Uralican gymnastics team trains in Izhevsk.
Football (Soccer)
Edit
As the hub of Udmurt football (soccer) in the old Russian system, Izhevsk lays claim to several smaller football (soccer) clubs, however the only team in the higher levels is Udmurtiya Izhevsk.
Bolakliiga
Edit
Kakkonen
Edit
Burevestnik Izhevsk
Udmurt FK
Kolmonen
Edit
Delin Izhevsk
Dentex Izhevsk
Khazar Izhevsk
Komos Izhevsk
Kompak Pervomaiskiy
Kristall Izhevsk
Lokomotiv Izhevsk
NefteMash Izhevsk
Parus Izhevsk
Stolitsa Izhevsk
Ustinovets Izhevsk
Sokol Izhevsk
Udmurtiya-II Izhevsk
Other Pro/Semi-Pro
Edit
Dinamo Izhevsk
FK Izhevsk
Spartak Izhevsk
Zenit Izhevsk
Uralica Izhevsk
Issikarin JK
Issikarin Blues
Izhevsk Kickers
Progress Izhevsk
Team Handball
Edit
Basketball
Edit
Rugby Sevens
Edit
Neighbourhoods and Suburbs
Edit
Ludorvay
Pervomaysky
Pozely
Industrialny
Leninsky
Oktyabrsky
Ustinovsky
Community content is available under
CC-BY-SA
unless otherwise noted.