Isoustiuki (Russ. Великий Устюг, Engl. formerly Velikiy Ustyug) is the county seat of West Uralica county and also the largest city in its eastern half. Its main importance stems from lumber production for domestic consumption, as well as nearby iron and silver mines, and the use of the Sukhona River (on which it sits) for river-based navigation and trade for most of the year (the river freezes over in the winter).
It is on Highway UH-21, which connects to Highway UH-11 at Kimcheng and Highway UH-5 just outside of Kotlas city limits.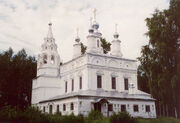 Isoustiuki, in spite of being largely Russian for most of its history, has a Finnish majority these days, with Finns having moved into empty but maintained residential infrastructure, after a long, steady decline of the population. The name was changed in reflection of this in July 2009, but means the same thing - Great Ustyug.
In spite of the decline, Isoustiuki's numerous religious monuments were kept up well, with there being two cathedrals, four monasteries, and three old churches in the city, including the famous Trinity Monastery at Gleden. Interestingly enough, one of the former Orthodox churches - Ascension Church - is now being used as a UEB church, but is also a popular site for ecumenical Christian services.
Football (Soccer)
Edit
Other Pro/Semi-Pro
Edit
Isoustiukin JK
Allianssi Isoustiuki
Transit Isoustiuki
Dynamo Isoustiuki
Spartak Isoustiuki
Gornyak Isoustiuki
Finnsky Klub Isoustiuki
Zheleznik Isoustiuki
Rapid Isoustiuki
Atlantis Isoustiuki
Jupiter Isoustiuki
Torpedo Isoustiuki
Iuki Isoustiuki
Ice Hockey
Edit
Basketball
Edit
ISJPK (Isoustiukin Suomalainen Jääpalloklubi)
Neighbourhoods and Suburbs
Edit
Kaleden (Russ. Gleden - renamed as a tip of the hat to Old Canada)
Truskovo (Russ. Druzhkovo)
Judino
Community content is available under
CC-BY-SA
unless otherwise noted.