Hungry Like The Wolf Accords
Hungry Like The Wolf
Treaty Type: ODoAP
Treaty Signed: November 17, 2015
Treaty Status: Active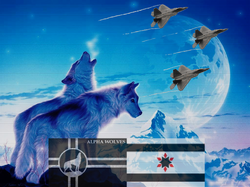 Hungry Like The Wolf Accords
---
The Alpha Wolves join forces with the World Freedom Federation to continue friendship between the two growing alliances. It was announced on November 17th, 2015. The name of the treaty harkens back to the desire for both alliances to have fun and eat things. The content of the treaty articles is a main infographic and several words.
Signatures
Edit
---

Alpha Wolves
Malakaralian- Alpha Wolf
Al Bundy- Beta Wolf
Ric Rast- Delta Wolf
Tja65- Wolf of Finance
World Freedom Federation
The WFF Citizens
Community content is available under
CC-BY-SA
unless otherwise noted.