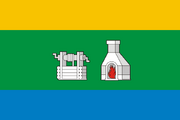 Greater Yekaterinburg (Finn. Suurkatarinala, Russ. Большой Екатеринбург) is a Uralican unitary authority, the most populated of them, containing roughly 10% of Uralica's population. About 70% of these live within the official city limits of Yekaterinburg, but there are several large towns that are in the peripheral areas of the UA, mainly bedroom communities for Yekaterinburg.
The flag of the UA is actually the city flag of Yekaterinburg.
Major Constituent Communities
Edit
Verkhnyaya Pyshma (Finn, Yläpusuma)
Beryozovski (Finn. Pirjosovi)
Kol'tsovo (Finn. Kolitsovo)
Sovkhozny (Finn. Sovohos)
Khutor (Finn. Huutori)
Sredneuralsk (Finn. Keskiuralla)
Iset' (Finn. Iseti)
Shuvakish (Finn. Suvakisi)
Community content is available under
CC-BY-SA
unless otherwise noted.