Grand Poobah Marx
Head of Recruitment of the Random Insanity Alliance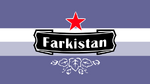 Flag of Farkistan, flown in North Place
Grand Poobah Marx is the ruler of the nation North Place. He is a former Head of Economics and Head of Recruitment of the Random Insanity Alliance.
Grand Poobah Marx joined the RIA on June 13, 2007, shortly after his nation was founded. He remained a active regular member of the RIA for some time until he decided to run for Head of Economics in the December 2007 elections. While he did not win, the winner cctmsp13 withdrew from the election a little bit into allowing Grand Poobah Marx to automatically win it. He, however, resigned three days later due to time restrictions. Pinwheel became his replacement after being nominated and accepted. Around four months later in the May 2008 elections he decided to run for Head of Recruitment and defeated Dontasemebro with 62.50% of the votes becoming the Head of Recruitment for the month.
Positions
Edit
Community content is available under
CC-BY-SA
unless otherwise noted.