Golden Sabres War
Date
May 28, 2008 - June 8, 2008
Casus belli
Supporting FAN senator
Result
GS becomes defunct
Preceded by

Echelon-WWSR War

Succeeded by

AE-FINAL War

Combatants

Golden Sabres


TORN

Strength
Nations: 34
Total NS: 807,487
Nukes: 151
Average NS: 23,750
Score: 3.06

---

44,902 land
173,471 infra.
22,842 tech
822,345 soldiers
56,049 tanks
258 cruise missiles

Nations: 1276
Total NS: 23,174,438
Nukes: 3,819
Average NS: 18,162
Combined Score: 90.92

---

1,261,915 land
4,605,616 infra.
836,446 tech
21,813,619 soldiers
1,448,550 tanks
8,724 cruise missiles
The Golden Sabres War started on May 27, 2008 when TORN, NPO, Valhalla, and Auric Armada declared war on Golden Sabres, a yellow team alliance, for supporting Brass, a member of FAN, as a yellow team senator. TORN and her allies considered this action to be an act of war because it supported the Federation of Armed Nations, an alliance currently at war with One Vision and many of their allies. In the past FAN had used the senate as a weapon, sanctioning nations allied to One Vision, and TORN. On June 5, Individual surrender terms were posted and the leaders of Golden Sabres urged it's members to accept them, basically disbanding the alliance. The last wars declared upon Golden Sabres nations were seen on June 5 and as of June 28 only a single nation remains under the Golden Sabres alliance affiliation.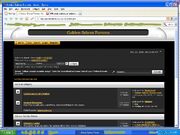 Timeline and References
Edit
May 27, 2008
May 28, 2008
May 29, 2008
May 30, 2008
June 5, 2008
June 8, 2008
June 23, 2008
June 28, 2008
July 1, 2008
Community content is available under
CC-BY-SA
unless otherwise noted.