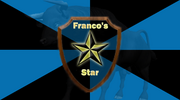 See also: Star Guard of the New Pacific Order
The Franco's Star project was announced to the Body Republic of the New Pacific Order on Tuesday, February 19, 2008. In just under a month, the founding father of Franco's Star, Uncle B, was able to organize and create systematically the historical symbol of Pacifica. Franco's Star represents the comradery, the bonds which bring each and every member of the New Pacific Order together.
Franco's Star Guards are led by the Astronomer, or Chief Observer, in a division known as the Star Guard.
Former Chief Observers are known as Chief Observers Emeritus, and include Uncle B and King Brandon.
This project is only possible through the use of the top 100 nations of Pacifica, seen here on the New Pacific Order alliance map.
To see a list of the current top 100 nations of the New Pacific Order, feel free to scroll through the alliance list here.
If you are a nation looking for information on how to participate, contact the Star Guard via the forums. If you are looking for information on how to move your nation, see below.
How to move your capital
Edit
Step 1: To get to the capital location screen, click the icon next to your nation's name on your nation page, or copy this url and fill in your nation ID.
Step 2: Move your capital around on the map, the way you normally would to move it to a new location, but don't click on the relocation confirmation link.
Step 3: Copy the url of the relocation confirmation link (in Firefox, right-click, "Copy Link Location"); it's the link in the popup you get after you move the capital.
Step 4: Clear your address bar and paste the url into it.
Step 5: Locate the part that says "lat=SomeNumber", and change the number to the latitude you want.
Step 6: Do the same as you did in step 5, but this time the part of the url you want to change is the part that says "lon=AnotherNumber" for the longitude you want.
Step 7: Press enter to confirm the move.
New Pacific Order

Political

Important Papers

Departments

 

Treaties & Blocs

NPO Portal
Community content is available under
CC-BY-SA
unless otherwise noted.