| | |
| --- | --- |
| | This article is currently under construction. Information may change as the article is updated. |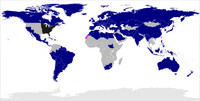 Bowasia's has relations with at least one nation from every continent (except Antarctica).
North America
Edit

Canada - Canada was one of the first nations to recognize Bowasia as an independent country and has since has had good relations with them.

Mexico - Relations with Mexico have been overall neutral but the two countries do share a trade agreement.

Texas - While both Texas and Bowasia were both formed at roughly at the same time, relations did not begin until somewhat recently. So far, relations have been very good, as they are both conservative right-wing nations.

United States of JBR - JBR and Bowasia have shared very good relations since their founding. Relations have been slightly strained at times, mostly due to JBR being a left-leaning nation and Bowasia being a right-leaning nation.
South America
Edit

Antioquia - Relations between Bowasia and Antioquia were good until September 11, 2012 when Antioquia declared war on Morocco. Bowasia declared war on Antioquia several days later and severed relations

Argentina - Relations with Argentina have so far been neutral. Although, Bowasia has criticized Argentina's actions regarding the Falkland Islands.

Brazil - Both Brazil and Bowasia's Catholic heritage have contributed to a close relationship leading to a trade agreement and many other friendship treaties

France - Since France and Bowasia are both nuclear weapons states, they share many defense-related treaties.

Finland - Trade between Bowasia and Finland have been strong, primarily dealing with coffee and other high-caffeine beverages.

Greece - Relations began on January 31, 2007 and have been close ever since. The two share a economic treaty and a trade agreement.

Germany - Relations with Germany have been strong thanks to exellent work from Bowasia's and Germany's ambassadors.

Italy - Italy is Bowasia one of Bowasia's best allies, economically speaking and defensively speaking. The two share a defense pact and several economic development treaties.

Norway - Bowasia maintains several army bases in the Bowasian Army's Antarctic regions located in Norway. Other than this, Bowasian-Norwegian relations have been generally neutral.
Community content is available under
CC-BY-SA
unless otherwise noted.