Endor Cuidad

The historic J Andres Commune Building, home
to the J Andres Government prior to the construction
of the Adrik Annan Governmental Center
Nation
J Andres
Location

Smithfield, Rhode Island

Area
28 square miles
Population
4,200,000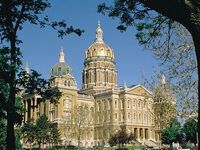 Endor Cuidad
is the capital of
The Maritime Republic of J Andres
. It is located in the northern portion of the historic Maritime Colony of Rhode Island. During J Andres formation in 1981, Endor Cuidad was the nation in it's entirety. After the collapse of J Andres in 2011, New England took over the region. In the Republic of New England, the city was renamed to Smithfield. Once J Andres was granted independence again in 2016, it was renamed as Endor Cuidad.
The city serves as the center for all of J Andres governmental needs. Prior to the 2011 collapse, J Andres had separate buildings for the Commune, and Presidential Palace. After the formation of the Maritime Republic, all of these old governmental buildings were declared historical heritage sites and a massive construction project, financed directly by Richard Mercton resulted in the construction of the Adrik Annan Governmental Center. The new center of government, named after former President and Foreign Affairs Minister, Adrik Annan, houses all applications of the J Andres government, from the Commune, to Executive Offices for the President and the Department Heads. Although these offices were destroyed during the Grand Mexican War, a new, smaller governmental center building was constructed in 2101[1]. This new office was also called the Adrik Annan Governmental Center.
Estadio Endor
Edit
Before the Grand Mexican War, Endor Cuidad was also the home to the J Andres Anchormen the national football team. Estadio Endor was the name of the home stadium. The stadium was an engineering marvel and was built, owned, and operated by JTech. The stadium seated about 45 thousand fans and also featured a museum highlighting the teams history underneath the grandstand. Estadio Endor was also the home to the Endor Cuidad Militiamen, a domestic football team in the Anchor Soccer Association. The league suspended play after the 2009 season.
Diplomatic Quarter
Edit
Endor Cuidad is the home to all the embassies of various nations. Embassy Circle was originally constructed in 1991 and has 20 embassies. In 2009 it became necessary to have more room for embassies, so Bethesda Way, named after Foreign Affairs mainstay, Mickey Bethesda was commissioned. Only two embassies on Bethesda Way were completed before they were vacated, although Bethesda Way will eventually hold a total of eight embassies.
J Andres Diplomatic Quarter can be viewed here:
References
Edit
↑ Doors Opened to New Adrik Annan Governmental Center. (2101, April 19) The Anchor Times
Community content is available under
CC-BY-SA
unless otherwise noted.