Element

Element Information
Team Color:

Black

Founded:
January 17, 2008
IRC:
#element on Coldfront
Website:
Link
Alliance Statistics
Nations
196
Strength
1,695,350
Nukes
51
Score
7.77
As Of:
08-01-08
Alliance Government Positions
Emperor
Coolgreen44
Regent
HaVoK
Speaker of the Senator
Joey67500
Senate
Introduction
Edit
Element is a Cybernations alliance, located on the Black team. The alliance was formed 1/17/2008 by a bunch of former HeroesOfGaming members. The alliance grew quickly as a large amount of former HoG's moved over to the knew alliance, and in less than 100 days of existence it passed over the 200 member, 1.5 million nation strength mark. However August 2008 turned out to be a tough month for the alliance as a war split the government. Element lost 500k nation strength and 50 members in one night do to this split. Soon after Coolgreen44 proclaimed himself Emperor in an attempt to rebuild the alliance.
Old Flag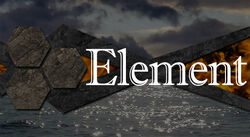 Element was founded, by Coolgreen44, Danizduhman, and Ryan Reyes, all of whom are former members of both MCXA, and HeroesOfGaming. Danizduhman was the driving force behind the creation of Element. After the disbandment of HeroesOfGaming, many ex-members started coming forward and asking for a new alliance to be created, Dan then stepped up and begin organizing the efforts.
July 9: Ryan Reyes resigned as a Triumvir of Element, replaced by Caesar833. [1]
August 18: Element nations attack the OTF Alliance in defense of RIA.
August 20: Coolgreen44 proclaims himself Emperor, with HaVoK as Regent, and Joey67500 as head of the senate.

War History
Edit
Element's first war was a limited engagement with the Browncoats. The war was intended to be a Obsidian, and Realm Of Titans attack, however after update a large amount of slots remained open, allowing for Element nations to declare war.
Treaties
Edit
This is an overview of all treaties held by the alliance.
Community content is available under
CC-BY-SA
unless otherwise noted.