The Dinohouse Accords is a MnDoAP between the Viridian Entente and Deinos. It was announced on March 27, 2012. The treaty was dissolved with the disbandment of Deinos on April 29, 2013.
Dinohouse Accords
Edit
The following is a treaty between some cool cats and kittens who are pledging to defend each other from attack, to be pals in public and in private, and to potentially help the others stomp on cars and little tiny people!
Article One – Mutual Defence
Edit
Deinos and the Viridian Entente are totally down to defend each other in a war, and also understand that this includes the use of strategy and coalition warfare. Also this treaty is non-chaining!
Article Two – Optional Aggression
Edit
Deinos and the Viridian Entente are possibly down to help the other in a war of aggression! It's totally optional, though.
Article Three – Intelligence
Edit
Deinos and the Viridian Entente promise to communicate often, and to warn the other about anything they might need to know!
Article Four – Aid
Edit
Deinos and the Viridian Entente are down to aid the other financially or politically should it be needed.
Article Five – Cancellation
Edit
This is an eternal, uncancellable treaty. Haha just kidding! Psych! Should either Deinos or the Viridian Entente decide to cancel this bad boy, it can happen with forty-eight hours notice.
Signatories
Edit
Signed for Deinos
Edit
New Frontier, Tyrant King
Silver Empress, Dromiceiomimus Princess
Walt Thizzney, Raptor Lord of Diplomacy
Jaym, Raptor Lord of Finance
Sandler, Raptor Lord of the Interior
Maecilla, Raptor Lord of Development
Dera, Raptor Lord of War
Signed for the Viridian Entente
Edit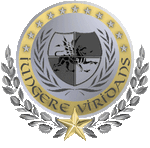 Impero, Lord of the Entente
Goldie, Duke of the Entente
Shadow, Secretary of Defense
Ging, Secretary of the Interior
Deviousfarie, Secretary of State
Asawyer, Secretary of Economics
Community content is available under
CC-BY-SA
unless otherwise noted.