Rollback is a permission (user-right) that can be added to a trusted user to aid in combating vandalism. Someone who has the Rollback user-right can be referred to as a Rollbacker. Administrators but not Bureaucrats innately have the Rollback user-right.
For a list of those who have the Rollback permission see: Special:ListUsers/rollback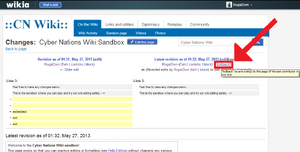 Users with the "rollback" permission are able to revert multiple bad edits on one article with one click, by using the rollback link on diff pages, article history page, user contributions list, or the list of recent changes.
Rollback can be granted or removed by any bureaucrat at the discretion of administrators and bureaucrats.
Community content is available under
CC-BY-SA
unless otherwise noted.