Cù Lao Rè Island is located to The South-East of Da Nang City. Due to the Islands Position, Navy Vessels Stationed here can control all shipping into Northern Vietnam. Cù Lao Rè Island Provence is Made up of two Islands, Cù Lao Rè Being the Larger of the two. To the north of Cù Lao Rè, Is the Smaller Sister island, Cù Lao Nang.
The Island of Cù Lao Rè Was soon Occupied by VNA Troops on the Morning of June 21st Only a few days after the Civil War Ended and the Republic was Formed. The Vietnamese National Navy (VNN) Needed somewhere to Permently store Troops and Naval Vessels. On the Morning of the 22nd Of June, The first Antonov An-124's Airborne Divisions landed on the Island, along with Several Soviet Ropucha class landing ship. Within 3 hrs, 4000 Troops and 300 Tanks had arrived. From this Island Base, The VNN can control all shipping into Northern parts of Vietnam, Using mainly the VNNV Da Nang Class Destroyer.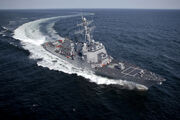 Cù Lao Rang
Edit
The Smaller sister island Cù Lao Rang, Is currently being Used as a Weapons testing ground. The island is Also home To the Cù Lao Rang strategic Missile Launch Facility.
Community content is available under
CC-BY-SA
unless otherwise noted.