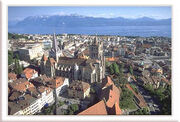 Crystallville
Edit
Crystallville( Officialy Saint Mary of the Crystal Ville ) is the administrative capital city of Cellestia.
The city was named Saint Mary of the Crystal Ville, because of the colour of the sky in Armony with the Crystalline Lake made Charles Bullrich-Iturraspe take the decision of choosing the place as the Capital of the new Kingdom and State of Cellestia in July 30th 2009, the name is in Tribute to Our Lady Maryām, mother of Jesus Christ, the prophet of Christianism and Catholicism, which was choosen as the Official Religion of Cellestia.
Different Variations in other Languages
Edit
Traductions of the city name in other languages:

French: Sainte-Marie-du-Verre-Ville
German: Sankt Mariä von der Glasville
Cellestian: Sante Maryām dem Crestall Velle
Spanish: Santa María de Villa Cristal
Italian: Santa Maria di Villa Cristallo
Swedish: Sankta Maria av Crystalville
Dutch: Sint Maria van Kristalstad
Latin: Sancta Maria de Cristalia
Crystallville was founded the 30th July, 2009, by Lunalackie, called like that for the colour of its two principal lakes, The Crystalline Lake, and King Charles I Lake, the city is the principal management place of the country.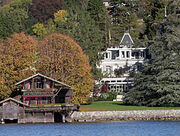 The history of the Idea of creating a city like Crystallville begins in the early 1990s, when Charles Bullrich-Iturraspe (King Charles I) designed a city in his plane (He grew up in an Important Architects Family) based in a radiation-free Environment and European style of houses, stone streets, large Churches, somewhat big mounts, and a big artificial Lake in the Downtown of the city, the place choosen is the Former Municipialty of Les Enfers, Switzerland.
The original name is Saint Mary of the Crystal Ville and its the official name of the city and Crystallville is the unformal name and is mostly used to refer to the city by foreign and people who speak different languages.

The Colonel Arthur Brown is the owner of the largest house of Crystallville, has bought in October 15th, 2009 for 35,000,000 CAM (Cellestian Mark) and its situed in the Residential Hood near the Lake King Charles I, in the outsides of The city of Crystallville.
Geography
Edit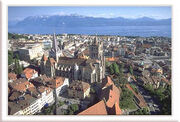 Sited between lakes, rivers and mountains, Crystallville has a perfect clean environment, air and water, and its houses has a perfect europe architecture with Embroided ceilings, makes a perfect view of the city.
The tourism has an important presence in the city, aproximatedly, about a 15.000 / 30.000 tourist visits the city per month.
Community content is available under
CC-BY-SA
unless otherwise noted.