Cherepovets (Finn. Terepovetsi) is a major Uralican city located in the west of the country, and is one of eight Uralican cities possessing its own unitary authority. It sits at the "mouth" of the Sheksna River, which drains into the Rybinskoye Reservoir, which in turn is drained by the Volga River.
It is a very important city for several reasons. First of all, it has a long history of metallurgy industry, which, through companies like Bolak Corp., Magyar Independent and NeoSeverstal, has made Cherepovets one of the principal smelting cities in Uralica. Secondly, it is a major retail hub due to its location close to Uralica's southwestern border, and its general size. There are of course other industries in Cherepovets. In particular, manufacturing of several different types of consumer goods takes place in the city.
It sits to the immediate south of Highway UH-3, which is a very important trade route.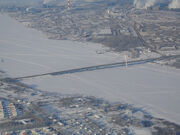 Although the name of the city is rumoured (disputedly so) to be Veps in origin, the vast majority of the population is Russian (roughly 80%), with more of the Livonian population of Uralica either living in nearby Vologda. The largest minority is Estonian, with smaller groups of Karelians and Finns as well.
However, the city is much like Vologda in that it is quite modern in terms of architecture, style, and atmosphere, with a few instances of classical Russian architecture. The most obvious example of the latter is the Church of the Nativity. In terms of modern architecture, the New Cherepovets Bridge, constructed in 2007, is probably the most striking landmark.
Mashinostroitel Cherepovets
Sheksna Cherepovets
Dinamo Cherepovets
Spartak Cherepovets
Torpedo Cherepovets
FK Cherepovets
Cherepovets City
Zenit Cherepovets
MFK Cherepovets
Finnsky Klub Cherepovets
Veps FK Cherepovets
FK Novy Ugly
Progress Cherepovets
Transit Cherepovets
Metallurg Cherepovets
Promyshlennik Cherepovets
Cherepovets Skiklub - no biathlon
Neighbourhoods and Suburbs
[
edit
|
edit source
]
Bogoslovo
Borok
Radugo
Yakonskoye
Shilovka
Andogsky
Batransky
Bogorodskoye
Ugly
Novy Ugly
Community content is available under
CC-BY-SA
unless otherwise noted.