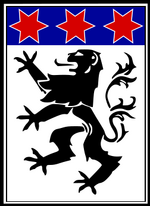 In the politics of the Republic of Aquisgrana, the Cabinet is a formal body composed of the most senior government ministers chosen by the Magistratus and voted on by the people. Most members are heads of government departments with the title "Minister of ...". Formal members of the Cabinet are drawn exclusively from the Concilium Ministrorum.
Current Cabinet
Edit
Following his appointment as Magistratus, Valdemar announced his first Cabinet on 25th June 2009. The most recent cabinet reshuffle was on 10th July 2010
| Portfolio | Minister |
| --- | --- |
| Magistratus, Commander-in-Chief | His Excellency Valdemar CM |
| Minister for Finance | His Excellency General Mc Muffin CM |
| Minister for Foreign Affairs | His Excellency Elfriede Riotte CM |
| Minister for the Interior | His Excellency Gavin Jones CM |
| Minister for Immigration | His Excellency Kaiser Milch CM |
| Minister for War | His Excellency Alfred von Schlifen CM |
Community content is available under
CC-BY-SA
unless otherwise noted.