Blunity Accords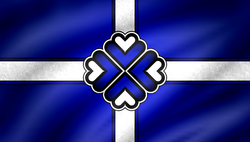 Former Signatories
I. Admission
Edit
A. Entry to BLUNITY is open to any alliances with 75% of its nations residing on the Blue Sphere.
B. A 3/4 majority vote is required in the acceptance of new members.
C. Each applicant member will be informed of their answer in 72 hours or less.
II. Trade
Edit
The undersigned agree to maintain a cooperative trade sphere.
A. Signatories will collaborate towards the formation of trade circles on the BLUNITY forums.
B. No signatory will enact a trade embargo against another signatory.
C. Signatories will give at least 5 days notice to the other signatories should they intend to change spheres.
III. Commerce
Edit
The undersigned are encouraged to organize tech deals preferentially with other BLUNITY alliances.
A. Signatories agree to maintain and manage a tech deal section on the BLUNITY forums.
B. Signatories are encouraged to orchestrate aiding programs for whatever purpose with other alliances as a sign of friendship.
IV. Amendments
Edit
The undersigned may amend the treaty if they so choose.
A. Amendments to BLUNITY require the unanimous approval of all BLUNITY signatories to pass.
V. Withdrawal
Edit
Signatories may withdraw from this treaty at any time without stating a reason.
A. Private notice of 72 hours is required during which time the undersigned remain bound by this treaty.
B. Public notice may not be given until after the 72 hours have elapsed.
C. No alliance may be forcibly expelled from BLUNITY unless they no longer meet the 75% member requirement for the Blue Team or if they violate the terms laid out by this document.
Signed for the Ascended Republic of Elite States
Edit
Joe Stupid, President
Jtkode, Vice President
Barix, Director of Internal Affairs
CommanderCato, Director of Recruitment
Perandori, Director of Defense
Signed for Genesis
Edit
Templar, Empirica, Flygirl, Trinity of Genesis
Jimi Hendrix, Minister of Foreign Affairs
PierreG, Minister of Internal Affairs
Yondaime Nara, Minister of Defense
MrSpackle, Minister of Communications
Mikey, Minster of Recruitment
Genesis disbanded and merged into NpO on May 11, 2011.
Signed for the Global Democratic Alliance
Edit
PopCap, President
SippyJuice, Minister of Internal Affairs
BacTalan, Minister of Economics
Kiado, Minister of Recruitment
Atarpenia, Minister of Defense
JazAce, Senator
MoonMan, Senator
Bob the Great, Senator
Signed for the Greenland Republic
Edit
Al, Archon
Shamedmonkey, Vice-Archon
Ilselu1, Minister of Foreign Affairs
Virillus, Minister of Defence
Kosherness, Minister of Finance
Acid, Minister of Interior
Kestral, Menwearpink135, Cripple, Jenker, Gn0x, Senate
Greenland Republic merged to form The Last Remnants around June 20, 2011.
Signed for the Imperial Assault Alliance
Edit
Chimaera, His Majesty, the Emperor
Grand Vizier Mathias, Grand Vizier
MercyFallout, Grand Admiral
Stagger_Lee, Grand Moff
Rebirth of Gorniar, Galactic Reserve Chairman
Signed for The Liquor Cabinet
Edit
Electron Sponge, Mister Wonderful
HannaH, Tons-O-Fun
RandomInterrupt, "Bully!"
Chunky Monkey, Minister of Drunken Monkeys
Imperator, Minister of Making Sponge Save A Warchest For Once
Quinoa Rex, Minister of Tricking People Into Joining Us
King Penchuk, Minister of Clown Killing
Signed for the New Polar Order
Edit
Almighty Grub, Emperor
Zbaldwin, Regent
Arctic Penguin, Imperial Liaison
Dajobo, Minister of Truth
JPhillips, Deputy Minister of Truth
Darth Actorbass, Minister of Peace
Ski11585, Minister of Plenty
Swiper, Deputy Minister of Plenty
BraveNewWorld. Minister of Love
John Rocker, Imperial Advisor
Mergerberger, Polar Representative
Signed for Nueva Vida
Edit
*Nelchael, Emperor
Space Ghost, Lord of the Interior
Hizzy, Lord of Brotherhood
Gebiv, Lord of War
Shillelagh, Lord of the Exchequer
Karthikking, Deputy Lord of the Exchequer
R.K. Triggerhappy, Priest
Signed for the Union of Integrated National Entities
Edit
*Keve69, Emperor
HRH King Raymond II, Triumvir
Skoshuke, Triumvir
TeamColtra, Triumvir,
Signed for 1-Touch Football
Edit
Signed for the United Blue Directorate
Edit
GrimCity, Director
Combat Pope, Director
Lyons, Director
Russell07, Minister of Foreign Affairs
Signed for Aurora Borealis
Edit
Dan123123- Blade of Tyshalle
Nitroburn- Kosall
The Evilest Eye- The River Goddess
Signed for The Coalition of Erratic Nations
Edit
Tharbakim, Director
Joke, Director
Midgetporn, Director
Siberian Jay, Minister of Foreign Affairs
Signed for The Republic of Aquisgrana
Edit
Valdemar, Magistratus
Elfriede Riotte, Minister Legati
Signed for The Conservative Underground
Edit
*CommanderCato, Governor
Unholyprior, Director of Internal Affairs
RoTaD, Director of Military Affairs
Signed for The Foreign Division
Edit
Speaker LetsHunt
Senator Cadieness
Senator Illius Vander
Senator The Iggy
Senator Phil
Minister of Foreign Affairs GearHead
Signed for the North Atlantic Defense Coalition
Edit
Da Supe, Secretary General
Lord Damien, Foreign Affairs Minister
Mikean, Internal Affairs Minister
Michael Martin, Military Operations Commander
BoSox Nation, Financial Minister
legend, Deputy Foreign Affairs Minister
Paulstartrek, Deputy Military Commander
Haart, Deputy Finance Minister
Signed for the North Atlantic Treaty Organization
Edit
AtheistRepublican, High Councillor Potentia
Iskander, High Councillor Externus
Lenny N Karl, High Councillor Augmentum
Soronis, Minister of Foreign Affairs
Signed for The Lost World
Edit
Divine Proportion, Triumvir and Founder
Prodigy.NL, Triumvir and Founder
Satsukage, Triumvir
Bones Malone, Founder
Magister Agricolarum, Founder
Silver Empress, Minister of Internal Affairs
Shootemup252, Minister of Development
Sareya, Minister of Finance
x5m0k3w33df0rl1fex, Minister of Foreign Affairs
KyJelly, Minister of Defense
The Lost World merged with Gondor to form Deinos around March 15, 2011.
Signed for Avalanche
Edit
Alpine Patroller - SirDog
Nordic Patroller - I am Nobody
Mountain Host - Paulpig
Auxiliary Patrollers - The Pink Pansy, Nitropenta, Arborder
External links
Edit
Community content is available under
CC-BY-SA
unless otherwise noted.