BTA-MONGOLS War
Date
February 5—12, 2012
Casus belli
Mongols raided 3 BTA members
Status
White Peace
Preceded by

Grudge War

Succeeded by

NG-AGWO War

Combatants

---

Minor Involvement

Strength
BTA


22 nations
697,656 nation strength
31,712 average NS
197 nukes
2.81 score
119,078 infra
40,417 tech
26,025 land

MONGOLS


20 nations
373,301 nation strength
18,665 average NS
188 nukes
1.69 score
66,302 infra
16,560 tech
9,425 land
The BTA-MONGOLS War was conflict between the Blue Turtle Alliance and the MONGOLS.
History
[
]
On February 5, 2012 shortly before update, the BTA declared they would tech raid the MONGOLS in retaliation to them raiding 3 BTA nations. Shortly after Kaskus also declared they would do the same to MONGOLS declaring they will defend other raiders from being raided. However, currently only a single Kaskus-MONGOLS war has taken place, leaving the majority of the fighting taking place between BTA and MONGOLS. The MONGOLS responded to the BTA declaration by saying that only a single small MONGOLS nation had initialized a raid and had immediately offered peace after MONGOLS leadership talked to BTA leadership. They accused the BTA of launching spy attacks against MONGOLS nations after this and declared they will repel all nations attacking them.
On February 12, 2012 MCXA became involved without an official announcement when four MCXA nations declared war on four MONGOL nations with the war reason "In defense of BTA". Later that day the war came to a close when peace between BTA and MONGOLS was reached with MCXA and Kaskus also honoring the agreement.
Related Announcements
[
]
Related Images
[
]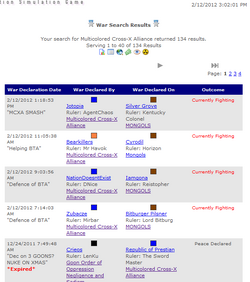 See also
[
]