Apocalypse Meow II
 
AM Motto: Semper Donec
Team Color
Pink
Founder(s)
Nord, Land of Freedom
Founded
11/19/2017
Leader(s)

First Lieutenant:

First Sergeant:

Defense Sergeant:

Morale Sergeant:

Supply Sergeant:

invalid alliance Statistics as of March 1st, 2018

Total Nations

▲

10
Strength

▲

337,145
Avg. Strength

▲

33,715
Nukes

▼

177
Aid Efficiency
57/60 (95%)
Rank
70/173
Score

▲

1.99
Important Links



Apocalypse Meow (AM) is a fun, exciting and dynamic alliance for established nations. Remember, there is one item of gear that can be the difference between a live cat and a dead cat. Socks, cushion, sole, O.D. green.
The Ranks and Rights of AM
Edit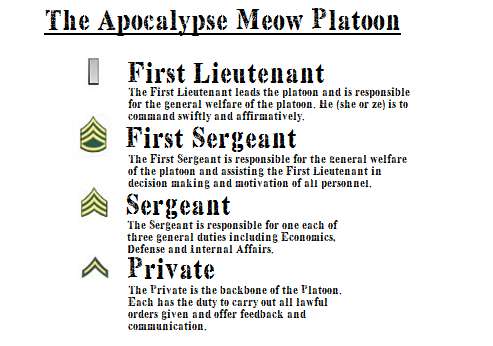 First Amendment: Freedom to Perch
An interested nation shall change their Alliance Affiliation to Apocalypse Meow and then register on Discord for the Official AM Interrogation © with a government member. If one is rejected, they are entitled to a full explanation.
Second Amendment: Security
All Cats have the right to bear nuclear arms.
Third Amendment: No Soldier Quartered
[Classified]
Fourth Amendment: Search and Destroy
Members have a right to raid (attack other nations under certain restrictions) and must always paste up their requested target on The Official AM Discord Server © and await approval from a govt member before taking action. Anyone given a Raiding Card may raid at will. A Raiding Card is presented by the First Lieutenant or First Sergeant to members who fully demonstrate that they know who and how to raid.
Fifth Amendment: Double Jeopardy
In the event a Declaration of War is made, every Cat must work together and fight. If a Cat leaves the AA under any circumstance during a time of war, that Cat will be stripped of any rank earned and considered AWOL. The Cats of Apocalypse Meow are never to surrender as a POW.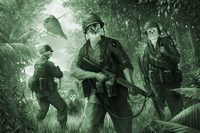 Sixth Amendment: Right to a Speedy Alliance
Members have are charged with the right to make an account on The Official AM Discord Server © and be active in the community. Above all, the member absolutely must respond to in game messages within a reasonable amount of time. New nations are expected to sell tech in a timely manner and conduct business with great effort to be on time. Members are to follow all First Lieutenant and First Sergeant issued or delegated economic plans.
Foreign Affairs
Edit
Diplomacy
Edit
Apocalypse Meow always welcomes diplomatic relations with all alliances on Bob, whether it be business or pleasure.
Apocalypse Meows' Treaties
Apocalypse Meow will be the first to help their allies. No matter the odds no matter their size, they all bleed the same.
Community content is available under
CC-BY-SA
unless otherwise noted.