Agent Lemon
Cactus Emeritus of the Random Insanity Alliance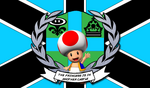 Flag of Californication
Agent Lemon, also known as California King, was the ruler of the nation Californication. He is a former Triumvir and Head of Recruitment of the Random Insanity Alliance. He announced his intention to leave Planet Bob on May 11, 2010 and the nation of Californication ceased to exist on May 17, 2010. He returned to Bob on October 3, 2010, under the name of Agent Lemon, ruling the nation Citrus Empire.
Agent Lemon was a former member of Celestial Being who joined the RIA on November 24, 2008 during CB's merger into the RIA. Shortly after his entry into the alliance he began recruiting for the RIA with a large number of incoming recruits joining due to messages sent by him. In the January 2009 elections he decided to run for Head of Recruitment and was elected automatically as nobody chose to run against him. During his term as Head of Recruitment the growth of the RIA increased much higher than it was previously due to a constant flow of new recruits. In the elections at the end of March Agent Lemon decided to run for both Head of Recruitment and for a seat on the Triumvirate. On the final day of the election DrunkWino, the incumbent, was leading but withdrew from the race due to some voting irregularities. This caused Lemon, who was in second place, to automatically win the election. Following discussions after this event Lemon choose to "resign" from the position when he took power on April 1 to allow for another election to be scheduled due to the strange nature of his victory. This, however, ended up not changing the result as Lemon ended up winning the new election and became a Triumvir on April 6, 2009. He remained a Triuvmir until September 30, 2009 when he choose not to retire and didn't re-run in the September 2009 elections. He choose to run for Captain Planet in the November 2009 elections and won after a very heated race. He won the vote by a single vote, beating Zitan XLII, who in turn was only a single vote behind the third place winner Cactimus Prime. On May 11, 2010 Agent Lemon announced his intention to leave Planet Bob and dissolve the nation of Californication. His nation ceased to exist on May 17, 2010 after existing for 853 days and after being in the RIA for 538 days.
Triumvirates of the Random Insanity Alliance
1st Azural, Damen, Moth • 2nd Azural, Delta1212, Moth • 3rd Delta1212, Moth, Shadow
4th Delta1212, DrunkWino, Shadow • 5th Agent Lemon, Delta1212, Shadow • 6th Delta1212, Shadow, Thunder Strike • 7th Delta1212, im317, Shadow
Community content is available under
CC-BY-SA
unless otherwise noted.