The following is a list of military operations carried out by the forces of NewAustralia.
Operation: Silver Lightning Edit
See also: Jihad War of the United States of JBR
Status: Complete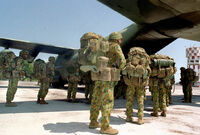 On the 23 March 0930 hours (NewAustralian Time), NewAustralia declared war on the Anti-Infidel League of the Islamic Resistance. As soon as the declaration had been passed, troops were loaded into carriers and sent overseas to begin fighting. Not long after NewAustralian forces entered the war the AIL forfeited and the corrupt JBRican government was toppled. Unfortunately, issues in the Deltoran Republic forced troops to be diverted to the Deltoran Republic for assistance. An indecent involving New Zealand and the Union of Midway started an investigation led by NewAustralia into the events at Wellington Airport. New Zealand and the Philipines claimed that the Union of Midway was behind the attack but the Union of Midway denied the claims and believed National Revolutionary Front was behind the atrocity. However NewAustralia left STOP and terminated the investigation as well as its involvement with STOP.
Commanders involved in the operation:
MAJGEN Susan Slatter
GPCPT Ben Hodges
Operation: Iron Dragon Edit
See also: War of the Northern Coral Sea
Status: Complete
Operation: Iron Dragon began on the 27th of May in response to weapons testing from a remote community in Papua New Guinea. Insurgent forces were believed to be behind the test flight of a ballistic missile, which fell short of the NewAustralian coast by two kilometres. NewAustralia immediately began assembling a response team to investigate. Upon their arrival the NewAustralian troops were fired upon by the Natural Conservation League. What followed was to be known as the Battle of Popondetta. On the 1st of June 2011, the NewAustralian Government officially issued the NewAustralian Declaration of War on the Natural Conservation League as a result of the Battle of Popondetta. At the conclusion of the battle NewAustralian forces set up 2 air force bases at Popondetta Airport and Girua Airport as well as a Grand Army base in the town of Popondetta. The war later ended when NewAustralian forces attacked and destroyed the NCL headquarters in the Battle of the NCL Headquarters. Hanna Flannagan and George Gordon were put on trial for sabotage and terrorism.
Commanders involved in the operation:
LTCOL Daniel Scarlett
COL Nicholas Harris
GPCPT Ben Hodges
Operation: Old Friends Edit
See also: Southern Counterattack
Status: Complete
After Ontar Hilli was sent from the Deltoran Republic in assistance with Operation: Iron Dragon , GPCPT Lucas Hewat and 200 F-35 Lightning II were sent to the Deltoran Republic to help patrol their borders.
Commanders involved in the operation:
Community content is available under
CC-BY-SA
unless otherwise noted.