| | |
| --- | --- |
| | This alliance has disbanded as of October 31, 2011. More information is available here. |
AA Protected by LoSS
Imperial Assault Alliance
 
IAA Motto: Imperium Increbresco (Latin)
Team Color
Blue
Founder(s)
Chimaera
Founded
April 28, 2009

Publicly announced May 12, 2009
Disbanded on October 31, 2011

invalid alliance Statistics as of 4 June 2011

Total Nations
75
Strength
1,688,210
Avg. Strength
22,509
Nukes
630
Rank
69
Score
6.95
Important Links
Government
Edit
The Emperor
Edit
| Succession | Incumbent | Reign |
| --- | --- | --- |
| First | Chimaera | April 28, 2009 - July 9, 2010 |
| Second | Voodoo Nova | July 9, 2010 - October 18, 2010 |
| Third | PHD | October 18, 2010 - April 26, 2011 |
| Fourth | Chimaera | April 26, 2011 – Present |
The Imperial Ruling Council
Edit
Deputies and Other Officials of the Imperial Ruling Council
Edit
The Imperial Senate
Edit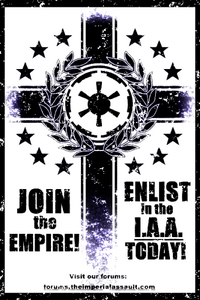 Admittance into the Imperial Senate is as simple as enlisting for membership in the IAA. All members admitted into the Imperial ranks receive the automatic status of Imperial Senator, and retain the full rights and privileges delegated to citizens of the Empire, including the rights to propose, debate, and vote on legislation.
External Link: The Declaration of Empire
The governing document of the IAA, and the single highest authority in the Empire, the Declaration of Empire is a testament to the devotion and renewal of what was once but a memory, an alliance that not only devoted itself to the preservation of order and power, but of individual liberty and brotherhood for all who wish to partake.
Foreign Affairs
Edit
| MDoAP | MDP | PIAT | Protectorates |
| --- | --- | --- | --- |
| | | | |
Community content is available under
CC-BY-SA
unless otherwise noted.