The Emergency Procedure Organization


Das Eilverfahren Organisation von Preußen

Seal of the Prussian Government
Agency overview
Formed
1 April 2009
Preceding Agency
The Tenarran Military Agency
Jurisdiction
Prussian Military
Ministers Responsible
Hans Grosse, Minister of War
 
Alfred Hohagen, Minister of Security and Defense
Agency Executives
Alfred von Schliefen, Chief of General Staff
 
Liese Weisemann, Chairwoman of the Council
Website
http://epo.gov.pe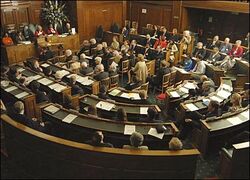 The Emergency Procedure Organization (German: Das Eilverfahren Organisation von Preußen) is the government agency responsible for the management of the Military of the Imperial Dominion of Prussia. It is the highest ranking Military body of the Empire, and, under the Charter of the Empire, has absolute control over the combined Military forces of the Dominion. The Headquarters of the organization is located in the downtown Quarthe "Forbidden District," and is only accessible to government agents and employees.
The Organization is headed by the Minister of War, currently Hans Grosse, and the Military Council of the Prussian Armed Forces. The Council is directed by the Chancellor, and is made up of thirty-five government advisors and military Officers. The Chief of General Staff is formally on the Council as well, but does not usually meet with it unless the matter being discussed is of high importance.
The Council meets once a month during times of peace, and once a week during times of war. In order to make decisions, the Chair of the Council begins a discussion on what are current issues and plans, and how to address them. The Chair will then call a vote, and upon a majority vote a plan of action will be put together and recorded for the Minister of War. Most decisions that are made by the Council result from a unanimous vote, which makes the voting process more ceremonial than practical.
Community content is available under
CC-BY-SA
unless otherwise noted.